Cleaning out horse stalls with Purple Packer and the Intrepid KM85 small articulated loader
Cleaning the horse stall can now be done using mechanical and hydraulic power using a mini articulated loader (also referred to as small articulated loader). An articulated miniloader fitted with a manure grab can drive in and scoop up manure and bedding in one sweep.
Keeping horse stalls and barns clean is a labor-intensive job at any horse-keeping facility. Usually, it entails using a wheel-barrow, a pitchfork, shovel and muscle power to clean out each stall one by one. It's an important task as animal hygiene directly impacts animal health. Understandably, it's not one of the favored jobs at farm.
Combined with the Purple Packer and our Intrepid KM85, horse stalls bedded with straw, sawdust or shavings can be cleaned out in matter of seconds, as shown in the video to the right.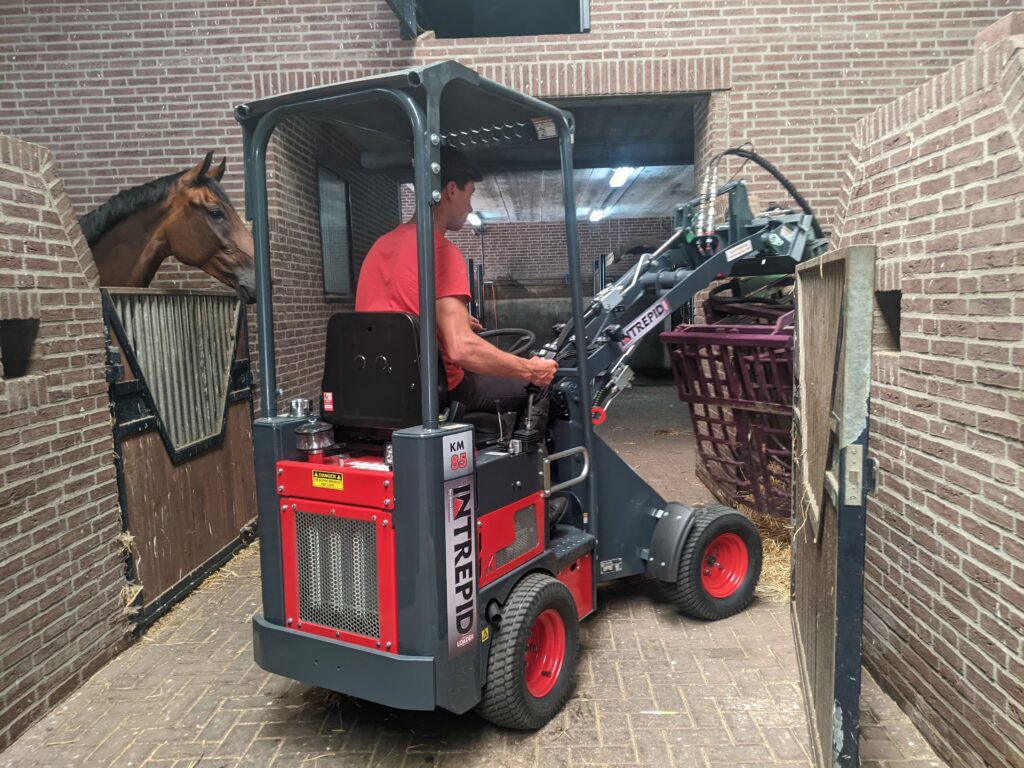 Articulated loaders in an equine job setting
Small articulated loaders are great toolcarriers for farms and horse stables. With a standard, universal mount plate, they are able to utilize dozens of different attachments such as buckets, bale forks, manure grapples, scrapers, pushers, bedding spreaders and more. The articulated loader is more capable than a (mini) skidsteer in such a setting: mini articulating loaders are faster, lighter, lift more and higher, use less fuel, and provide the operator with better overview.
For example, the miniloader shown here (the KM85) is able to maneuver into a horse stall with ease, whereas a (mini) skidsteer would be too wide. Also, the skidsteer would need to be positioned directly in front of doorway to enter it.
There are two variants of the Purple Packer, with or without side-shift. The one shown in the video is equipped with the side-shift function. Whether you need the side-shift function depends on stall doors being centered or off-center.
Specifications Purple Packer with side-shift function:
Suited for stalls with off-center doorways
Suited for loaders up to 3300 lbs.
Closed 32.5 in. wide – 47 in. in length
Opened 94.5-122 in. wide (built to spec, larger opening on request)
Shifts left or right up to 35 in. (electric over hydraulic manifold)
Weight: 530 lbs.
Capacity: ca. 225 gal. — max. 880 lbs.
1/2″ flat face hydraulic couplers
Optional: inlay screen for sawdust or shavings
Optional: hydraulic rotation/swivel to access small doorways