Miniloaders for tree care
Tree care specialists are always on the lookout for new, innovative equipment. The equipment arborists use is just as diverse as the job sites they visit. Professional tree care companies need small gear like chainsaws, climbing equipment and the right clothing. Larger equipment comes in the form of chippers, cranes, trucks and our topic here: loaders.
Green industry is where articulating wheel-loaders have been adapted quicker than ever. When considering a utility loader, arborists were always limited to (mini)skidsteers. Now, 'mini' wheel-loaders have busted through the door and are on the minds of most tree care specialists. With a knock-around grapple like the Branch Manager or TNA grapple, an arborist with a mini articulating loader can now clear and finish up jobsites faster than ever before. Here's 4 reasons why an articulating miniloader should be on your wishlist if you are an arborist.
1. Save the grass, go articulating
No more hassle of laying out plywood pathways for your loaders. Equipped with wide turf-friendly tires, articulating miniloaders won't leave a scratch. No more complaints and patching-up work after you finished the job.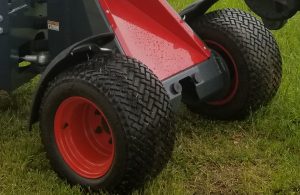 2. Go for the ultimate power/weight ratio
Miniloaders have a more powerful lifting mechanism than skidsteers and use less horsepower to do the same. This makes the machine lighter and easier to transport, with minimal surface impact.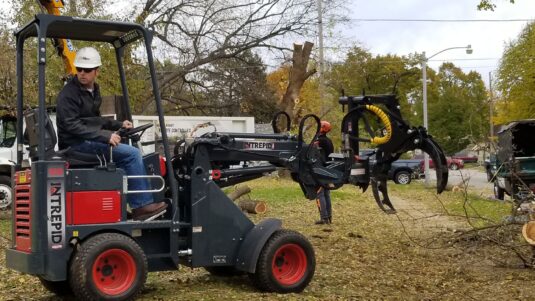 3. Enjoy the easiest operating experience
Wheel-loaders are easy to get on to, easy to operate, provide great visibility. The create less fatigue because they drive smoothly. Tools like a grapple are easy to operate with the joystick.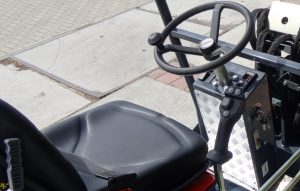 4. Spend less on wear & tear
Skidsteers consume more fuel and rubber, whether it's in the form of tires or expensive tracks. A miniloader can easily go for 2000 hours on the same tires, but a skidsteer needs replacement tracks or tires before the 1000 hours have even passed.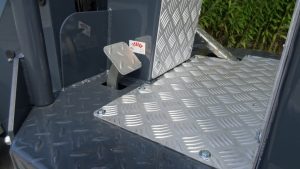 ---
This article is written by Chris Sleurink of Miniloaders.com. We are a Texas based distributor of  Intrepid™  articulating miniloaders for tree care, built in Belgium by Knikmops. Interested in these machines? Feel free to contact us.