Compact loader decisions – (mini) skidsteer, compact tractor or mini articulating loader?
Whether you're a landscaper, arborist, construction contractor or just want to work around your property, you may arrive at the point where you want to purchase a small piece of loader equipment. There are multiple compact loader options to choose from, but which is best for you?
This article gives you general information and pros & cons if you are looking for a compact loader that doesn't weigh more than 4000 lbs. This article is the result of my personal experiences with people looking for a compact loader, but also listening to user experiences, reading forums and researching machine specifications. Please take into account that I apply generalizations and there are exceptions to the rule. Also, opinions differ on things like how comfortable a loader is to drive. Some user swear by their skidsteer because they have never driven anything else.
Small skidsteer (tracked or wheeled)
Skidsteer pros & cons
Pros
Cons
Auxiliary hydraulic output (high flow option)
High ground impact
Pushing power/torque (e.g for digging)
Tire or track wear and tear
Market availability (used & new)
Low power to weight ratio
Stability
High fuel usage (no automotive drive control)
Compact length
Limited operator visibility
Widespread attachment availability (universal hitch)
Operator comfort (in & out access)
Smaller turn radius
Heavy machine weight
Uncomfortable drive on uneven terrain
The most popular option available, they are widely available through the many brands and dealers that sell and service them. They are powerful, easy to drive and attachments are available everywhere because of the universal hitch. There are tradeoffs however; they are heavy and use powerful engines generating a lift capacity that lighter, more efficient compact wheel-loaders can beat. When choosing a skidsteer, one of the most important considerations besides size (small, medium or large frame) are tracks or wheels. I added a video from one of the most popular equipment vloggers, Stanley "Dirt Monkey" Genadek, to help you out.
Price range: $30.000 – $50.000
Mini Articulating Loader (rear or front seat)
Mini articulating loader pros & cons
Pros
Cons
ground impact/turf friendly
Stability (prone to tipping)
(High) power to weight ratio
Low auxiliary hydraulic output (for rear-seats)
Good operator visibility
Market availability: fewer brands and dealers
High travel speeds (up to 12 mp/h)
Pushing power/torque (e.g for digging)
Lower tire wear
Lower fuel usage (only for rear steer)
Universal (mini) skidsteer hitch for attachments
Smaller turn radius
Easy on/off access
Upcoming in the green industry especially, more and more contractors are choosing articulating over 'skidding' because of their minimal ground impact. Especially when outfitted with wide turf tires, arborists prefer these loaders over skidsteers because they don't need to lay plywood tracks anymore. They also require a smaller engine for the same lift capacity a (mini) skidsteer has. However, they can be tipsy and should be driven with caution on inclines. Operators need to be skilled, but once they master the wheel-loader they can be fast, agile and highly efficient. A consideration besides size is front seated or rear seated; front seated articulating loaders available in the market provide higher hydraulic flows, but offer less visibility to the front, spend more fuel (no automotive drive control), and have a more confined operator space.
Price range: $30.000-$50.000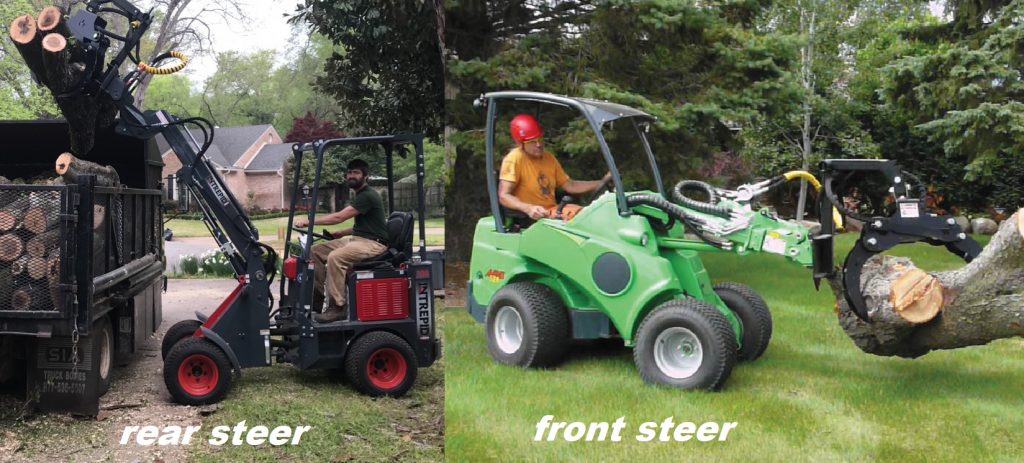 Mini skidsteer (tracked or wheeled)
Versatile through its compact size, maneuverability and hydraulic output, the mini skidsteer (or compact utility loader) is the loader of choice for many green industry and construction contractors. They won't lift as much as a full size skidsteer or wheel loader, but they are easy to use and widely available, whether new or used. Most of these loaders come with tracks, but you can find them wheeled as well. Arborists state they do far less turf damage than normal skidsteers, but plywood tracks are needed most of the time they're used. It also comes down to operator skill and how many turns the loader has to make. The auxiliary hydraulic output they offer make them ideal for trencher attachments, and easy accessibility (stand-on) probably makes them much liked as well. There are downsides to this type of loader: they're slow and won't lift as much as other loader types with the same engine output. My opinion: great loader for its versatility, but not so much a load and carry machine.
Price range: $35.000 – $60.000

Mini skidsteer pros & cons
Pros
Cons
Compact size
Average to high ground impact
Great operator visibility
Low lift height/reach
High auxiliary hydraulic output
Tire or track wear and tear
Good stability
Low travel speed ( < 5 mp/h)
Market availability (used & new)
Low to average power to weight ratio
Easy on/off access
High fuel usage (continuous RPM)
Smaller turn radius
Compact tractor
Produced in the thousands every year by manufacturers like Kubota, John Deere and Massey Ferguson, the compact tractor with loader arm is popular with small livestock farmers and countryside homeowners. However, it remains an interesting option for contractors to look at as well, especially from a price and availability standpoint. You will find them with the skidsteer universal hitch that make it possible to draw attachments from the large and diverse pool of skidsteer attachments.
They're simple and easy to use, but have much larger turning circles than the other loaders described here. They also take up more space while having limited loading capacities, so take that in account if you need to haul equipment to different jobsites.
Tractors being tractors, they are ideal for large area operations with pulled implements.
Price range: $15.000-$30.000
Compact tractor pros & cons
Pros
Cons
Backhoe or PTO availability
Low operating capacity for loader arm
Large area operations e.g tilling
Average to high ground impact
Comfortable drive
Size
Stability
Large turning radius
Price
Visibility to front/bucket
High travel speeds (+ 15 mp/h)
Low auxiliary hydraulic output